Simon McLeod has created a directory he's called GoogleDirectory and has been charging big bucks to have companies listed in it. Police from the financial crime unit are investigating and if you have had contact with this company you need to contact them – the more information and complainants they have, the better!
New Zealand-based GoogleDirectory lists thousands of companies – but there's no link to the internet giant and now the police are involved.
Simon McLeod is the director of GoogleDirectory, which charged between $200 and $15,000 for internet advertising packages.

Fraud police are investigating a New Zealand company calling itself GoogleDirectory – set up with no links to the internet giant but which has listed thousands of businesses and state agencies.

The company launched last month, but had been signing on companies since at least May, promoting itself as a new online marketing tool.

Detective Sergeant Aaron Pascoe, of the Auckland central police financial crime unit, said police had received several fraud complaints from businesses.

"The financial crime unit has received information about GoogleDirectory and we're aware of allegations which has prompted us to look into it. We have spoken with a representative of the company," he said.

The company has no connection to the international search giant, Google, which has also launched its own investigation.
Read the rest of the NZ Herald article: 'Google' fraud probe
One look at the directory should be enough to tell anyone that it's not up to scratch – it looks like an awful home made thing badly utilising twitter bootstrap and the terms and conditions refer to the company behind the directory as Corporate Consultants & Advisory Limited.
It's always good to see if the website contact information matches up with the domain registration info – in this case take a look at http://whois.domaintools.com/googledirectory.co.nz. What reputable company deliberately puts fake names, addresses and phone numbers on their domain registration? "Privacy" is dirt cheap, but equally unprofessional. If you are a legit company there should be no harm in having real, usable contact information available.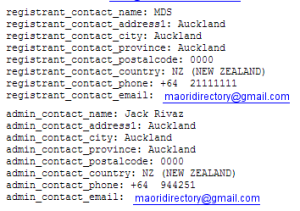 A website called Dodgy Business received a complaint back in May 2013 about them and identified that they were using the "google" part of their domain name to their benefit.
And while we're on the look out for Google directories that aren't officially Google there's also http://google-directory.com/.