I've been alerted to a new directory to NZ's overheated market – and it appears to be a reincarnation of National Business Online (NBO).
They contacted a client and tried to sign him up with a free extra year listing.
You'd think they could get the country's name written right – New Zealand and not New zealand!

and we're asked to

The site is registered to an Aryan Gill and the emails (parri100@gmail.com & mmousabbir@gmail.com) don't link to anything – which I always find curious. The phone number (given as 64 2 2102218059 and 64 21 02218059) links to a very busy account on Sella who is selling aviation equipment, property and employing a chef for Sangeet Indian Cuisine in Manukau.
What then catches my attention is what happens when you use Google to search for "NZKeyList" and you get 20 results where there should be 1 for every page in the site. 2 of the results link to this warning on Twitter: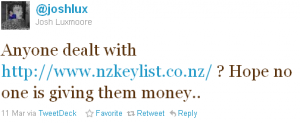 The rest clearly link the site with NBO

Why would NZ Key List be calling themselves National Business Online if it wasn't being run by the same people?
Why also would the search button on the screen be called "NBOsearchbutton.gif"?
If you look at their Contact Us page there is a form to fill in but not postal address or phone number. Their About Us page is insultingly bare.
I'd be really interested if anyone knows who this Aryan Gill really is because until then this directory is tainted by its association with NBO.